Industry Trends
MA Energy Code Updates
On July 19, 2016, the Board of Building Regulations and Standards (BBRS), voted to approve the amendments to the MA energy code effective August 12, 2016. The energy amendments contain a concurrency provision, and the concurrency period is between August 12, 2016 and January 1, 2017. If your project is permitting after January 1, 2017, the project needs to comply with the new amendments to the energy provisions of the building code.
Essentially this update now formalizes the base building energy code to follow IECC 2015/ASHRAE 90.1-2013 with MA amendments. To understand what energy performance level the project needs to meet, refer to diagram 1 of this memo.
Details regarding the code update announcement and MA amendments can be found here:
http://www.mass.gov/eopss/consumer-prot-and-bus-lic/license-type/buildings/amendments-to-780-cmr-effective-august-12-2016.html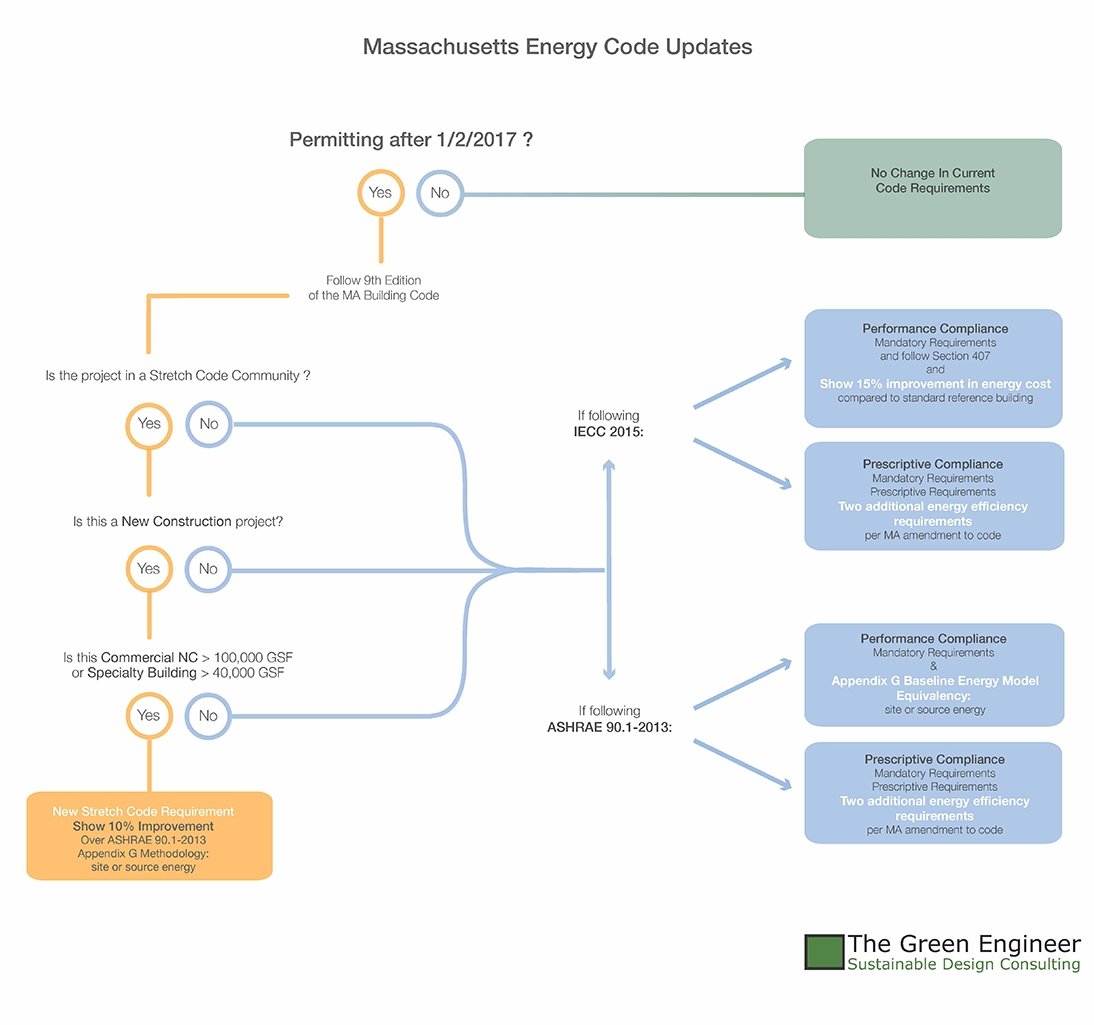 The major changes to the energy code are listed below:
1) Stretch Energy Code Update:
Large new construction commercial projects ( > 100,000 sq. ft.) in a stretch code community shall demonstrate at least 10% improvement in energy use per square foot with an energy model following ASHRAE 90.1-2013 Appendix G Performance Rating method on either a site or source basis. All existing building projects and commercial projects less than 100,000 sq. ft. are exempt from this (10% improvement) stretch energy code requirement and only need to follow the base energy code.
2) Base Energy Code:
Commercial buildings that do not fall under the purview of the stretch energy code's performance improvement requirement, shall follow the base energy code. Code compliance may be shown through one of the options below:
ASHRAE 90.1-2013 Prescriptive Compliance Path: Comply with all mandatory and prescriptive requirements of ASHRAE 90.1-2013 (with MA amendments). In addition, the project must comply with Item 2 and one other item of the five options listed under "additional efficiency" options of the base code.
ASHRAE 90.1-2013 Performance Compliance Path: Comply with all mandatory provisions of ASHRAE 90.1-2013 (with MA amendments) and show equivalency to Appendix G baseline model, either site or source energy.
IECC 2015 prescriptive compliance path: Comply with all mandatory and prescriptive requirements of IECC 2015 (with MA amendments) and two of the five options listed "additional efficiency options" of the base code. Tenant spaces shall comply with either: Items 1, 2, 3, 5, & 6 of the additional efficiency options OR Item 4, in which the entire building is in compliance.
IECC 2015 Performance Compliance path: Comply with all mandatory requirements of IECC 2015 (with MA amendments), and show performance improvement of 15% for either: energy cost, site energy, or source energy over the standard reference design building.
Additional Efficiency Package Options:
More efficient HVAC performance
Reduced lighting power density
Enhanced lighting controls
On-site supply of renewable energy
Provisions of a dedicated outdoor air system
High-efficiency service water heating
LEED v4: Boston & Cambridge Requirements
The last day to register projects under the 2009 version of LEED has passed. New projects pursuing LEED now must register under LEED version 4. The Boston Planning and Development Agency (formerly known as the Boston Redevelopment Authority), announced this past October- and breaking with previous precedent - that new projects seeking permits under Article 80/Article 37 (Boston's Green Building Requirements) must also use LEED v4, even if they previously registered under version 2009.
This applies only to new projects submitting to the BDPA and is not retroactive. However, many potential projects which may have registered under v2009 as a placeholder will now have to upgrade to LEED version 4. This brings the City of Boston's requirements closer to that of the City of Cambridge, where v4 has been required for the last year or so. Confused? Not sure what this means for your projects? Never done LEED v4 before? The Green Engineer can help. Give us a call.